HAPPY INDEPENDENCE DAY!!!!!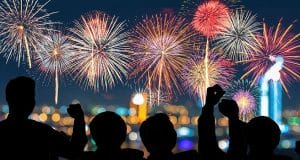 July 4th is a great time for celebration, but it also a time where serious injuries can occur. Below are 10 easy steps to staying safe around fireworks!
Do not let children play with or ignite fireworks.
Have an adult supervise fireworks activities.
Sparklers burn at approximately 2,000 degrees – supervise their use.
Do not place any body part over the fireworks when lighting the fuse.
Never try to re-light or pick up fireworks that have not ignited fully.
Never point or throw fireworks at another person.
Keep a bucket of water or a hose nearby in case of fire or other accident.
Light fireworks one at a time, then move back quickly.
Never carry fireworks in a pocket or shoot them off in metal or glass containers.
After fireworks complete their burning, douse the spent device with plenty of water.